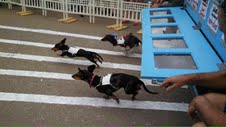 Though construction on Poyntz Ave.  caused the location to change, the 12th Annual Weenie Dog races persevered this past weekend.
With a fenced off area and stripes lining the parking lot south of AJ's Pizzeria, the races were set and the weenie dogs and their owners were ready to go.
During Saturday's event, the second annual Drag Dogs and Divas All-Breeds Fashion show took place with categories including Male Best in Show, Female Best in Show, Most Original Look, Best Dog and Owner Look A Like, Diva Dog, and Rock Star Dog.
Booths, also, lined the parking lot giving all those in attendance something to see and buy.
"The proceeds and donations from the t-shirt sales and from entering the races and from entering Drag Dogs and Divas fashion show go to Four Paws Rescue of Kansas," said Gina Scroggs, Executive Director of Downtown Manhattan.
Next year, the event is expected to be back on Poyntz.