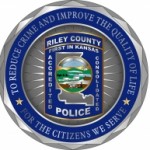 Updated 11:50 a.m. Monday
An injury accident NewsRadio 1350 KMAN first told you about over the weekend on 69th and Anderson Avenue leaves one injured.
Details were released Monday by Riley County Police.
The driver has been identified as 73 year old Barbara Lanning of the 7200 block of Anderson Avenue. Police say Lanning was traveling westbound on Anderson when she lost control of her 2004 Chrysler Sebring causing the vehicle to roll on its side.
Lanning was transported to Mercy Regional Health Center for minor wrist pains.
No citations were issued as a result of the accident.
####
Updated 3:50 p.m. Sunday
Anderson was reopened in both directions at 69th following an accident, reported at about 2:30 Sunday afternoon.
####
Anderson Avenue at 69th Avenue was closed near Keats at about 2:30 Sunday afternoon due to a one vehicle roll-over accident. The roadway was closed in both directions.
It was anticipated the road would be re-opened within an hour.
Few details are available although the accident reportedly involved a female with non-life threatening injuries.  A Riley County Police official indicates it took a while to extricate the woman from the vehicle.
Further details will be provided as they become available.