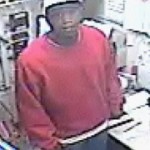 Updated 5a.m. Thursday:
On April 16, 2014 at 10:06 PM, the Riley County Police Department received a report of an armed robbery which had occurred at Dollar General located at 2321 Tuttle Creek Blvd., Manhattan, Kansas.
Information at this point is preliminary; however employees of the store described the suspect as: A black male, just under 6 feet tall, who was wearing a red sweatshirt and a ball cap with the American Flag spread across the bill.  The suspect was armed with a black semi-automatic handgun.
There were no reported injuries and an undetermined amount of money was taken.
A photograph of the suspect was obtained from surveillance cameras and RCPD is requesting assistance from the public in identifying the person in the photo.
Do not attempt to contact this suspect directly.
If you have information about this crime, contact the Riley County Police Department at 785-537-2112. You can also submit tips to the Manhattan Riley County Crime Stoppers and remain anonymous as well as potentially qualify for a cash reward of up to $1,000.00. This service can be utilized by calling 785-539-7777 or by installing the "TipSubmit Mobile" app on Android and iPhone. For more information on how to contact the Manhattan Riley County Crime Stoppers visit them online at www.ManhattanRileyCountyCrimeStoppers.com.
###
KMAN received word of an armed robbery that took place at a Manhattan store Wednesday night.  Calls on the scanner indicated police were dispatched around 10:15 p.m. to Dollar General, located at 2321 Tuttle Creek Boulevard.
Early reports say a black male, dressed in a red hoodie, brandished a pistol while at the location.  At least one vehicle was said to have left the scene at a high rate of speed.
Several Riley County Police vehicles were on scene in the front parking lot of the store.
KMAN will continue to bring you updates as they become available.