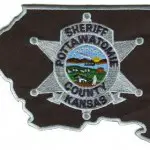 An arrest was made Tuesday, regarding a burglary that took place a few days prior in Onaga.
The Pottawatomie County Sheriff's Office announced Wednesday that they arrested Nathan Bell (18), of Duluth.  This arrest was the result of an investigation from a burglary reported on April 24th in Onaga.  During this investigation, several firearms were recovered that had been reported as stolen.
Bell was arrested for burglary and theft, and his bond was set at $20,000.