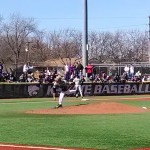 Tanner DeVinny had two hits and three RBI's and Austin Fisher, R.J. Santigate, and Mitch Meyer added two hits apiece as the Kansas State Baseball team rallied from a 7-2 deficit to defeat Iowa 12-8 before 2,738 Sunday afternoon at Tointon Family Stadium.
The Hawkeyes jumped on starting pitcher Landon Busch for four runs on six hits in the first two innings with two of the runs coming on a home run by Jake Mangler. K-State cut the deficit in half with a pair of runs in the bottom of the second before Iowa plated two more runs in the top of the fourth inning and added another tally in the top of the 6th.
The Wildcats chased Iowa starter Tyler Peyton with four runs in the bottom of the sixth inning. The first two runs scored on bases-loaded walks followed by an RBI single by Carter Yogi and and RBI groundout by Ross Kivett. After Iowa answered with a run in the top of the seventh, the Wildcats took the lead on a three-run rally with the first run scoring on Mitch Meyer's RBI double to right field followed by Alex Bee's two-run double of the wall. K-State got insurance with another three runs in the eighth inning which saw three Wildcats get hit by pitches. Fisher laced an RBI single to make it 10-8 then after Santigate plated a run by getting hit by a pitch, Meyer wrapped up the scoring with a Sacrifice Fly.
Jake Whaley (1-0) picked up his first victory as a Wildcat while Iowa's Nick Hibbing took the loss. Kansas State (7-7) extended its winning streak to six games after starting the season losing seven of its first eight contests. The Wildcats will be back at Tointon Family Stadium Wednesday night to face Omaha with first pitch set for 6:30 p.m.
Stay connected to all things KSU on the go just text EMAW to 88474
For full video wrap-ups, including analysis, highlights, coaches & player interviews of K-State Football & Basketball check out PowerCatGameday.com