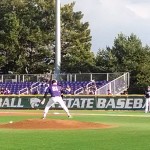 Ross Kivett had four hits in seven at bats while scoring three runs and driving in another three and Kansas State recorded four innings in which they scored four or more runs as the Wildcats rolled to their ninth straight victory in a 24-3 rout of Northern Colorado in Game 1 of a doubleheader Saturday afternoon at Tointon Family Stadium.
Mitch Meyer hit just K-State's fifth home run of the season as he was one of five Wildcats with two or more hits. After trailing 2-1 in the bottom of the second inning, the defending Big 12 Champions turned things around in a hurry and put the game away with 11 runs in the next two innings while torching five Bears pitchers for 20 hits.
Jared Moore (4-1) picked up the win scattering seven hits in seven innings of work while Colton Kalmus and Jordan Witcig mopped up with one perfect inning each.
Landon Busch takes the hill in the nightcap for Kansas State (10-7). The second game is the contest originally scheduled for Sunday but with cold, wet weather in the forecast the game was moved up to this evening as the second part of the twin bill.
Stay connected to all things KSU on the go just text EMAW to 88474
For full video wrap-ups, including analysis, highlights, coaches & player interviews of K-State Football & Basketball check out PowerCatGameday.com