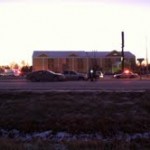 Update 9:45 a.m.
East Poyntz has been opened, and traffic can now travel on the road.
Updated 8:25 a.m.
Riley County Police and law enforcement personnel from surrounding areas responded shortly after 6:00 this morning to the Quality Inn and Suites at 150 East Poyntz Avenue for a disturbance call which indicated acts of violence. Shortly after arrival, RCPD officers managed to get the suspect in custody with no injuries to any personnel or bystanders. The Westbound lanes of East Poyntz Avenue have re-opened while the Eastbound lanes remain closed.
Riley County Police are expected to issue a press release later today with more information on this incident.