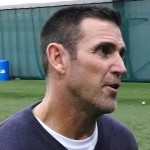 Kansas State scored one run in the ninth and had the tying run in scoring position but could not push that run across the plate as Texas Tech held on for a 4-3 victory in the opening game of a Big 12 series Friday night at Dan Law field in Lubbock.
K-State held a 2-0 lead into the bottom of the fifth inning thanks to an RBI single by Shane Conlon and an RBI double by R.J. Santigate. However the Red Raiders scored three times in the bottom of the fifth to take the lead as the Wildcats committed three of their four total errors for the game. After Tech added an insurance run in the eighth inning, the Wildcats closed the gap in the top of the ninth on Tanner DeVinny's RBI single to left that scored Austin Fisher. However, the rally fizzled when Max Brown grounded into a game-ending double play.
Levi Mavorhis was tagged with the loss as the Bat Cats dropped their third straight conference game.
Kansas State (20-14, 2-5) will face Texas Tech in the middle game of the three game series on Saturday. First pitch is set for 3 p.m.
Stay connected to all things KSU on the go just text EMAW to 88474
For full video wrap-ups, including analysis, highlights, coaches & player interviews of K-State Football & Basketball check out PowerCatGameday.com