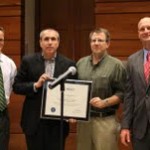 At a recent City Commission meeting Floodplain Specialist Steve Samuelson presented a plaque to Mayor John Matta acknowledging the city's certification as a member of the Community Rating System.
After becoming a new member of the National Flood insurance's Community Rating System, Manhattan residents will be eligible to receive up to a 10 percent discount on their flood insurance premiums.
The city anticipates further reduction in the upcoming year following new processes, campaigns and other programs.
For more information regarding the program, contact City Planner Chad Bunger at 587-2424.