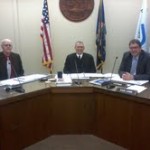 Monday's Riley County Commission meeting began with a bid opening for traffic signs, extruded street name signs, reflective sheeting, aluminum sign blanks and accessories, for the upcoming Manhattan street scaping project.
Six bids were submitted for the project, only one of which came from a Kansas company:
Newman Traffic Signs, Jamestown, ND-$24,656.08

Custom Products Corp, Jackson, MS-$20,244.41
Tapco Traffice and Parking Control Co., Brown Deer, WI-$34,062.14
National Sign Company Inc., Ottawa, KS-$22,327.15
Rocal Inc., Frankfort, OH-$20,004.20
Vulcan Signs, Foley, AL-$21,338.03
The commission approved to move all of the bids forward for staff evaluation and recommendation.
County Treasurer, Eileen King came forward to make a request that would cut down on the large amount of complaints her department has been receiving.
With the numerous changes made in the motor vehicle department, including the new system installation last fall, lines for services have been extensive.  Although there is funding available for another part time "as needed" staff member, King said this type of position is not suitable for the motor vehicle department, as changes are constantly being made.   She said a person would need to be there everyday to keep up on what's going on.  For these reasons, King requested the funding for the part time person be cut, and used toward hiring another full time employee.
Commissioner, Robert Boyd did not agree with this type of transition as he did not think it would be economical at this time.  "I don't think it's prudent to add staff at this time.  The fiscal constraints coming our way are unfathomable", said Boyd.
The commission approved the request on a 2-1 vote, with Boyd opposing.
Budget and Finance Officer, Johnette Shepek provided a few numbers during the meeting.  The 2012 General Fund balance has finally been finalized, with a final un-audited ending cash balance of $4,225,268.  Expenses were calculated at $19,493,187.
Shepek also shared the Riley County bonded and indebtedness, with outstanding indebtedness at $5,352,639.  She commented this is a great outcome, as there is a $17 million limit.
Public Works Director, Leon Hobson took the time to mention the snow that came over the weekend.  With the sun's appearance on Saturday, Hobson said it was an easy cleanup.