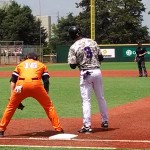 Zach Fish and Dustin Williams each homered for the second consecutive day and Oklahoma State used a nine-run fifth inning to blow the game open as the Big 12-leading Cowboys completed a weekend sweep of Kansas State with a 17-5 victory on a wind-swept Sunday afternoon at Tointon Family Stadium in a game that ended after the seventh inning due to the Big 12's Mercy rule.
Oklahoma State led 4-0 after two and a half innings before the Wildcats got on the board in the bottom of the third on a sacrifice fly by Carter Yagi. However, the Cowboys chased starter Nate Griep (3-6) with three more runs in the fourth inning and led 16-1 after their nine-run outburst in the fifth. K-State made a bid to avoid the Mercy rule with a four-run rally in the bottom of the sixth on Lance Miles' RBI single, a two-run homer by Mitch Meyer and Clayton Dalrymple's two-run double to right. However the Cowboys put up a final tally in the top of the seventh en route to their 38th win of the season as they prepare for their Bedlam showdown with Oklahoma next weekend to close out the season.
With the loss, Kansas State (24-28, 4-17) all but saw their hopes of qualifying for the Big 12 Tournament come to an end. The Wildcats will wrap up the regular season next weekend at Tointon Family Stadium with a three-game series against Texas. The series starts on Friday with a 6:30 p.m. first pitch.
Stay connected to all things KSU on the go just text EMAW to 88474
For full video wrap-ups, including analysis, highlights, coaches & player interviews of K-State Football & Basketball check out PowerCatGameday.com