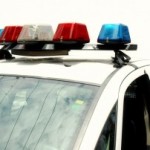 The Geary County sheriff's department is reporting a law enforcement pursuit in Junction City this past weekend. Matthew Hunter of Junction city was arrested following the pursuit, reported at about 5:30 Saturday evening.
Deputies attempted to stop Hunter when he failed to stop at a stop sign at the intersection of eighth street and Whitney Road. He finally was apprehended in the 500 block of North East Street.
Charges include felony fleeing and eluding, reckless driving, seven counts of failure to stop at a stop sign and a variety of other counts.