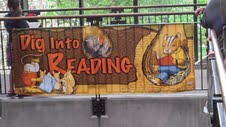 Pirates invaded the public library over the weekend as Saturday, June 1, held their summer reading program kickoff event.
Themed "Dig into Reading" those who work and those volunteering got into character dressing as pirates or at least donning a pirate hat and eye patch.
Upon entering the library, eleven stations were set for the kids to do little activities and also to register for the reading program.  Among these activities included digging for buried treasure, watching a puppet show, walking  a plank, and more.
Over the next few months, as the program progresses, there will be opportunities for both kids and adults to enjoy reading and the benefits of it.
"Our story times start Monday and our clubs start Tuesday and those are every week", said Jennifer Adams, Children's Services Manager at the Public Library, "Then we also have some special events."
For anyone who missed out on Saturday's event, you can still get registered to win prizes for reading this summer by going to the Manhattan public library's website at manhattan.lib.ks.us  or by visiting the library in person.  This event will run until July 31.