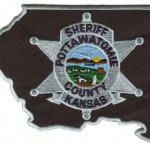 Three drug-related arrests have been made in Pottawatomie County, following search warrants at two different locations.  
Pottawatomie County Sheriff Greg Riat has announced the arrest of Christopher Zoeller, 28, and Erica Swenson, 25, both of Wamego, and  Shannon Meires, 32,  of St. Mary's.
Search warrants were served Thursday in the 500 block of Chestnut in Wamego, with an unspecified quantity of methamphetamine siezed. Zoeller and Swenson were arrested at that location, on several charges. Zoeller's charges include possession with intent to distribute meth, possession of drug paraphernalia, no drug tax stamp. Swenson faces possession of meth and drug paraphernalia counts.
The other warrant was served in the 100 block of West Park Avenue in St.Mary's, with methamphetamine seized. Meiresis was taken into custody there and faces the same charges as Zoeller. Bond has net yet been set for any of the three arrested.
The Sheriff's office worked with the Wamego and St.Mary's Police Departments in the execution of the search warrants.