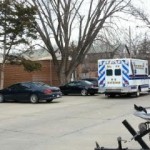 Riley County EMS were called to an apartment complex around 9:30 a.m. Tuesday morning for a potential intentional overdose.
A woman, living in Gardenway apartments here in Manhattan, took several doses of Dayquil and Sudafed. She then barricaded herself in a room.
This case is being investigated as a private matter, so no further details are available.