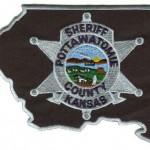 After law enforcement responded to a vehicle accident Wednesday evening in Duluth, the driver was found dead at the scene.
The Pottawatomie County Sheriff's Office received a 911 call about a roll-over injury accident approximately two miles East of Duluth Church on Duluth road.
Sheriff deputies, as well as EMS and Fire, were dispatched and responded to the location.  Emergency units when arriving discovered a single vehicle roll-over accident, and the driver was lying outside of the vehicle.  The driver was believed to be the only occupant of the vehicle, and was pronounced dead at the scene.
The driver was later identified as Ronald Shelton (45) of Duluth.
It appeared Shelton had been ejected from the vehicle and was not wearing a seat belt.