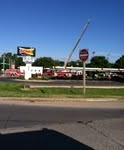 Update: 6-10-13
Details were released Monday regarding a fire at the Eastside Sonic Restaurant in Manhattan last Friday.
As KMAN first reported early Friday morning, a structure fire was reported at the restaurant at about 7:45 in the morning, located at 800 North Third Street.
The Monday morning response form from the Manhattan Fire Department indicates a total loss of $7,500, with $5,000 to the contents and $2,500 to the structure.
The cause was determined to be accidental, with a small grease fire in the kitchen area.
####
The Manhattan Fire Department responded to a fire at Sonic, located on North Third Street at about 7:45 Friday morning.
Deputy Chief Ryan Almes tells KMAN Sonic employees apparently got the fire out themselves within about five minutes. A grease fire was reportedly involved, affecting only kitchen equipment. Damage is described as minimal, with no injuries reported.
However Third Street was closed for a while, impacting traffic during a busy time of day.