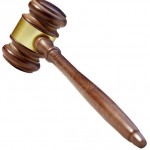 A former Junction City minister was sentenced in Geary County district court Monday for sex-related charges involving young boys in the church congregation.
Jordan Young (26) appeared in Judge David Platt's courtroom to receive his sentence. According to Assistant Prosecutor Michelle Brown, Young entered into a plea agreement where he entered a plea to one count of Aggravated Criminal Sodomy and four counts of Aggravated Indecent Liberties with a child.
He was sentenced to 297 months in prison, which is 24.75 years, lifetime post-release supervision upon his release and lifetime sex offender registration.