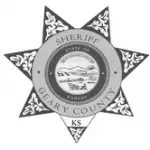 A two-year-old Fort Riley child died after an incident at Milford lake this past weekend.
Geary county sheriff Tony Wolf tells KMAN the child has been identified as Robert Duff Jr. The toddler reportedly fell off a boat the parents had rented Saturday, with both parents diving into the water after the child. The boat, with a five-year-old sibling on it, drifted quite a ways away–with the parents and the two-year-old later retrieved by Clay County law enforcement and Wildlife and Parks authorities.
The two-year-old was taken to Geary Community Hospital by ambulance, then airlifted to Stormont Vail in Topeka, where he died overnight Saturday.The father, Robert Duff is still reportedly hospitalized in Topeka.
The five-year-old child on the boat was unharmed. The mother Shannon Duff was not reported to be hospitalized