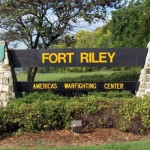 Fort Riley Public Affairs Officer, Major Martin O'Donnell, has confirmed that Special Agents from the U.S. Army Criminal Investigation Command, commonly referred to as CID (sid), are investigating an alleged incident that reportedly took place on post this past weekend.
According to a CID spokesman, CID is working closely with local law enforcement and takes the allegations very seriously. Fort Riley officials are fully cooperating with the investigation.
Major O'Donnell adds no further information can or will be released at this time to protect the integrity of the ongoing investigation.
KMAN announced Monday that Riley County Police had received a report from a 21 year old Manhattan woman that she had been raped on post at Fort Riley.
Names are not being released, although victim names never are in such cases. The name of the suspect is not known at this time.