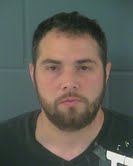 A 28-year-old Fort Riley soldier has been arrested on a charge of possession of child pornography .
Junction City Police Lt. Jeff Childs tells KMAN Sean Vincent was taken into custody after a search warrant executed at his residence on Sandpiper Court resulted in evidence found, including child pornography on his computer. In addition, Childs says a small amount of marijuana was discovered so Vincent also faces drug-related charges.
Vincent was arrested at about 10:45 Tuesday morning.