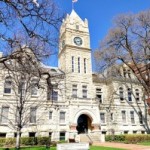 The Manhattan man, arrested after the shooting at Gardenway apartment complex Sunday, made his first appearance Wednesday.
Appearing in Riley County District Court, via web cam from Riley County jail, was Matthew Wilson (43).
Wilson is charged with six different charges, including one first degree murder charge, four attempted first degree murder charges and aggravated burglary.
One person died in the incident- US Army soldier, Michael Lowery (22).  Other injured victims were-Christine Kim (23),  Alexya Maila (23), and Dustin Ferguson (22).  Three individuals were present at the scene but not injured- US Army soldier Joel Solano (28),  Erica Campos (24) and Elyana Solano (1).
Wilson appeared before Judge Meryl Wilson.  The judge found Wilson eligible for an attorney and set his next court date for April 22nd at 10:30 a.m., where he will appear in front of Judge John Bosch to set a preliminary hearing.