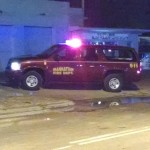 A Gas leak resulted in the closure of portions of a couple of streets on the East side of Manhattan Friday evening.
According to Batallion Chief Rex Worden with the Manhattan Fire Department the leak was discovered on North 3rd Street in front of the new Kentucky Fried Chicken restaurant which is still under construction. For precautionary reasons, fire officials blocked off the 900 block of North 3rd Street and the 300 block of Vattier Street. Crews from Kansas Gas Service arrived on the scene at around 8 p.m. and as of Friday evening were still working on the scene. The smell of gas was evident near the site of the leak.
No evacuations were ordered as a result of the leak.
KMAN will have further updates as they become available.