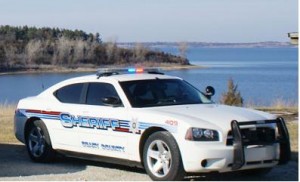 Updated 1:30 p.m. Tuesday: The passenger in Monday night's rollover accident in Geary county has been identified as Luke M. Johnson Sr. of Manhattan.
###
As KMAN announced early Tuesday, one person was injured in a rollover accident in Geary county Monday evening. John D. Thompson of Manhattan was westbound on I-70 at milemarker 301 shortly before 6:30 p.m. when he lost control of the 1999 "S"Series Mercedes he was driving.
The vehicle swerved into the opposite lane, Thompson over-corrected, and the Mercedes went through a fence, rolling over and coming to a stop on its roof. EMS transported an unidentified passenger to the Geary Community Hopital's emergency room with unknown injuries.
The name of the passenger has not been released.