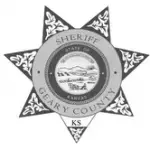 A Fort Riley man was life starred to a Kansas City hospital following a Saturday afternoon accident in Geary County.
The Geary County Sheriff's department reports Matthew Koschtial of Fort Riley was driving a 2000 Chevy Silverado east on K-57 when he ran the vehicle into the rear of a Konza Construction dump truck, driven by Larry Acker of Chapman. The dump truck was making a left turn when it was struck.
Junction City fire and EMS responded and had to extricate Koschtial from his vehicle. He was transferred to the University of Kansas Hospital with unknown injuries.
Geary County sheriff's deputies also responded to a report of a deceased male found in his camper trailer in the 36-hundred block of State Park Road in the woodland Hills campground. The call came in shortly before 11 Sunday morning. The case remains under investigation.