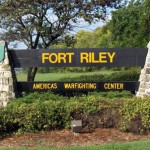 Updated noon Monday:
A fire in training areas on Fort Riley occurred Sunday, November 17. The natural vegetation fire was reported 11:59 a.m. and considered contained by 9:30 p.m. Due to the consistently high winds, Fort Riley Fire Department received fire fighting assets from Geary and Riley County and Kansas Forestry Service – under existing mutual aid agreements – to support their efforts. All training was ceased from 5 p.m. to 11 p.m. Related, the use of any/all pyrotechnics throughout all training and maneuver areas was banned, beginning at 12:00 noon Sunday until early Monday morning. Throughout the departments' fighting of this fire, no injuries were sustained and no structures were damaged.'
Steve Elstrom
Chief, External Information
Fort Riley Fort Riley Public Affairs Office
###
A fire that originated at Fort Riley brought out dozens of firefighters from Riley and Geary Counties Sunday afternoon. Riley County Fire Chief Pat Collins says the call came in shortly after 1 p.m. The fire originated in Geary County but eventually crossed into Riley County and for a time there was concern about a residential area at Wildcat Creek being threatened but that threat never materialized.
Collins said no structural damage was reported in Riley County and more than 30 firetrucks were on the scene including crews from Ft. Riley. No injuries were reported as a result of Sunday's fire.