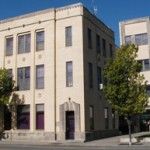 Over 30 applications were submitted for the Riley County Health Department Administrator position. By the time the end of March deadline rolled around, the applications were closer to 40.
These applications will be reviewed and discussed in further detail in executive session during Thursday's county commission meeting. It was decided during Monday's meeting: the three commissioners,County Clerk-Rich Vargo, County Counselor-Clancy Holeman and Human Resource Manager, Cindy Volanti will be the ones to review the applicants.
Before that time, Volanti asked the commission to narrow the applicants down to five or six top candidates. Those candidates will then be asked to come in during commission meetings for one hour interviews, with no more than two interviews per day.
Volanti also shared information regarding part time positions in various departments, as requested by the commission during a previous meeting.
County Clerk, Rich Vargo reminded individuals, during the meeting's press conference, the city commission and school board election will take place tomorrow in Riley County.
A majority of county department heads were in attendance for the county website work session. Assistant Director of Technology, Dawn Shoffner provided a wealth of information regarding changes wanting to be made and goals they wish to achieve.
Shoffner also provided prices CivicPlus charges to perform services, such as re-formatting.
The commission decided to schedule another work session for this topic, as many department heads had ideas and input.