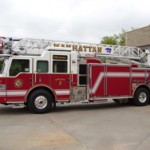 A fire KMAN previously reported on, has been ruled as an incendiary fire by investigators.
The fire occurred early on the morning of August 22nd on the 700 block of Osage Street here in Manhattan. The result of the scene examination concluded that the fire originated on the front porch of the residence. After sufficient evidence was recovered from the fire, the investigation proved the fire was intentionally set.
Fire investigators from Manhattan Fire Department are still working with the Riley County Police Department on this investigation.
The two departments request anyone with information about this fire to call 785-537-2112 or the Manhattan Riley County Crime Stoppers at 785-539-7777, or toll free at 1-800-222-TIPS.