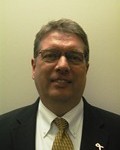 Making the official announcement Tuesday morning on KMAN's InFocus morning show, current Riley County Commissioner Dave Lewis announced that he will run to retain his seat as County Commissioner in 2014.
Lewis, a resident of Manhattan since 1991, is currently serving his first term as Riley County Commissioner. A longtime broadcaster, Lewis spent over 25 years in radio with 15 years as host of KMAN's morning show. In addition to broadcasting, Lewis served as the chair of the Manhattan/Riley County Sesquicentennial Celebration from 2002-2005.
Lewis said he is proud of the current Commission staff and is excited for the possible upcoming term.
"It's a job that I have embraced, I have enjoyed," Lewis said, " I feel like I'm effective at it and I think that I can help the people of Riley County in many respects and I look forward to that challenge again."