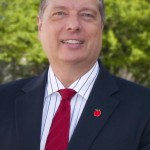 Although Riley County Commissioner, Dave Lewis made the official announcement back in March, on KMAN's In Focus, that he would be running to retain his seat as commissioner, he officially filed earlier this week.
KMAN spoke to Lewis about the challenges the commission will face over the next several years.  He said the biggest challenge will be the projected growth for the area.
"We need to make sure we have the infrastructure in place, and that our staff have the policies and procedures in place so that they can be better with creating new businesses and opportunities for new homes", Lewis commented.
Lewis has been a resident of Manhattan since 1991, and spent over 25 years in radio-15 of which he hosted KMAN's morning news.  He has also served as the chair of the Manhattan/Riley County Sesquicentennial Celebration from 2002-2005.  He said he believes his background with the community is helpful for his position on the commission.
"I think one of the things that if you are running for any public office, you need to have a vested interest in your community, and I spent a number of years in this community working with a number of organizations.  This is a community that really reached out to me during the biggest challenge of my life-after losing my wife", Lewis said.