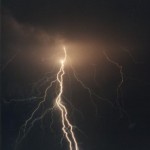 A lightning strike early Tuesday morning caused minimal damage to a two story house on Zeandale road.
Riley County Fire Chief Pat Collins tells KMAN lightning apparently struck a gutter, blowing out a downpipe on the side of the house. While there was no actual fire, damage is estimated at 800 to one-thousand dollars. Power was knocked out to the home.
Collins says the call came in at about 5:30 a.m. The house was located in the 35-hundred block of Zeandale Road.