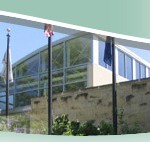 A proposal to rezone an area on Hudson Avenue was denied by Manhattan Urban Area Planning Board members Thursday night. Manhattan's Assistant Director for Planning Eric Cattell tells KMAN there was considerable discussion on the matter.
Cattell adds the owner of Body First Health and Fitness Club, Doug Sellers, was hoping to add a variety of office uses to the site, such as chiropractic, acupuncture, hairstylists, physical therapists and sports psychology However the board said no to the rezoning request, by a vote of 4-0.
Cattell says eight or nine residents spoke against the request. While not speaking against the business itself, concerns were expressed about what a future owner might do because the C-2 district would allow  expansions of buildings at the site without any type of review. Catell says the facility is in a residential area and that worried the neighbors.
Other items on the agenda included a final development plan for a Holiday Inn Express at the Blue Earth Place intersection, a rezoning for the Manhattan Area Technical College on Dickens Avenue, and amending of an ordinance involving First National Bank at Wildcat Landing.