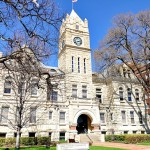 A status hearing was held Tuesday afternoon for one of the 17 Manhattan residents arrested on drug charges after the series of 13 search warrants KMAN reported on back in July. 
Marvin Berroth II (47) appeared in Riley County District Court, in front of Judge William Malcolm, via webcam from Riley County Jail.  Berroth is currently being held on a $25,000 bond, since it was lowered during his last court appearance.  Berroth faces five drug charges-distribution of methamphetamine, possession of methamphetamine, possession of misdemeanor drug paraphernalia, possession of felony drug paraphermalia and possession of psilocybin mushrooms, and one possession of a firearm charge.  Berroth was charged with all of these charges on July 26th after a series of search warrants.  This was a combined effort of- Riley County Police Depatment, Kansas Bureau of Investigations, Junction City Police Department, Geary County Sheriff's Office, Salina Police, Dickinson County Sheriff's Office and Saline County Sheriff's Office.
Berroth began by stating he has no attorney at the time, and since he thought he would have one by now, he asked to request an attorney.  Attorney Britain Stites stepped in to speak to Berroth's mother,  during a short recess as she was present during the hearing , and returned to make a couple requests.
Stites first asked to have the bond lowered, since Berroth has been working for over two months, is a lifetime Manhattan resident and has family present.  This request was denied.  Stites then asked for work release, which was also denied.
This case has been continued to August 27th at 1 p.m. for another status hearing.