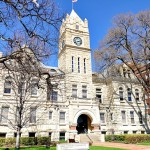 Another status hearing was set for Travis Bowman (22), who was arrested after the armed robbery at Dara's Convenience Store late last year.
The incident happened in November, when Bowman reportedly entered the store and demanded money from the store clerk.  He then presented a weapon, and after obtaining the money, demanded the clerk's car keys.  According to reports, Bowman then took the clerk's 1995 Chevrolet pickup, and abandoned it on Tuttle Creek Boulevard.
Bowman appeared in Riley County District Court via web cam, from Riley County Jail.
His case was set for another status hearing, to be held on February 25th at 1 p.m.