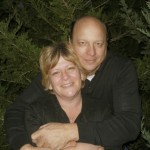 David Welch (54) of Manhattan, reportedly left his home in a maroon Pontiac Montana van, with Kansas license plates, on the evening of September 2nd at 8:30.  Police were contacted and made aware of the man's absence, as he did not express where he was going to friends or family.  After checking areas around Manhattan, they were unsuccessful in locating him.
On September 3rd, police were contacted by Welch's family and were informed that he had not returned home.  Officers confirmed that there was no reason to believe Welch was in danger or harm, or had known medical issues, when the report was filed. However it's since been learned that Welch has not taken essential medications that he needs.
Other law enforcement agencies in the area have been notified and a police information report for missing persons was filed on September 6th.
Welch is still reportedly missing at this time.  Anyone with information that could potentially lead to Welch's whereabouts, are encouraged to contact the Riley County Police Department at 785-537-2112.