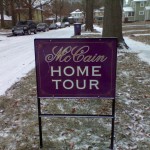 A variety of homes were available to tour during this year's McCain Holiday home tour, including a sorority house and a bed and breakfast.
People who attended the event paid $20 in advance, or $25 at the door, to view homes and learn about their history.
The tour, held from 11-5 p.m. Sunday, featured the following homes:
1220 Centennial Drive-Kappa Delta Sorority
2710 Heartland Valley Road-home of Jamie and Kim McAtee
617 Colorado Street, bed and breakfast of Bonnie-Lynn Sherow and Jim Sherow
5140 Founders Way-home of Howard and Patricia Sherwood
5132 Founders Way-home of Dennis and Sally Von Waaden
321 North 16th Street-home of Alyn and Kevin Pennington West
Although most of the home owners were not home at the time of the tour, Jim Sherow was at his bed and breakfast to share information about the house with the tour attendees.
Sherow commented, "This house was here long before my wife and I bought it. You really don't own a historic house, you possess the right to occupy it".