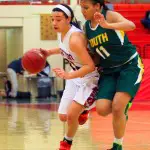 (Photo Courtesy of Chris Swick, McPherson Sentinel)
The Manhattan High girls basketball team earned a spot in the championship game of the 19th annual Mid America Classic in McPherson with a big win over Shawnee Mission South 66-35.
The Tribe jumped out early and they did not let up throughout the contest, taking a 39-16 lead into halftime. Manhattan was paced by Darby Price who had a game high 18 points along with eight rebounds while Savannah Roberts chipped in with 12 points and eight rebounds.
The Indians forced 21 turnovers in the ball game and was very efficient on offense hitting 53% of their shots from the floor including knocking down 13 of 18 from the free throw line.
Manhattan (11-1) will be matched up with McPherson who beat Andale in the second semifinal contest 45-34. The action will begin at 7:00 p.m. on Saturday night online at 1350kman.com with the tip time scheduled for 7:15 p.m.