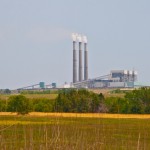 It ended up being a false alarm, but the Jeffrey Energy Center located in Pottawatomie County evacuated its office section at 10 Tuesday morning.
Westar Energy Spokesman Leonard Allen tells KMAN the evacuation decision was made due to a strange smell in the office, which was determined to have been caused by some type of substance in duct work.
The Pottawatomie County Sheriff's Department and Emergency Management were notified and Manhattan Fire's Haz-Mat Unit was also called in.
Allen says the Plant Director confirmed Tuesday afternoon that the odor was coming from the office's HVAC system, and it was not a foreign substance.
Office workers were allowed back during the afternoon.