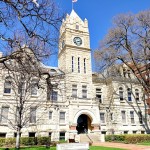 The Kansas City man charged in connection with a first degree murder case, where  John Burroughs (68) was found dead in his residence, appeared in Riley County District Court via webcam Tuesday afternoon.
This incident took place in September of last year.  Prosecutors say Burroughs was stabbed to death by another man, after Anthony Nichols (37) had shot Burroughs in the head.  The two other people charged in the incident were James McKenith (33) and Christina Love (49), who both appeared in court Monday.
Judge, William Malcolm set Nichols' preliminary hearing for July 16th at 9 a.m in Riley County District Court Chief Judge, Meryl Wilson's courtroom.
Nichols also faces a first degree murder charge in Geary County, regarding the shooting death of Anthony Nixon (37) of Junction City.  This killing was said to have taken place around the same time as the Burroughs death.