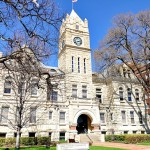 Another court date was set for the man involved in the fatal crash, that occurred in September of last year.
Daniel Nitchman (38) was scheduled for another status hearing Monday afternoon.  Nitchman is charged in the fatal vehicle crash, where Samantha Coleman (31) of Abilene died.
Although Nitchman did not appear in court, another status hearing has been scheduled for him on January 21st at 2:30.