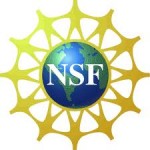 The National Science Foundation has named Kansas State University as its lead institution for the world's first Industry/University Cooperative Research Center on wheat.
The premier center, named the NSF I/UCRC Wheat Genetics Resource Center, is the first National Science Foundation-established research center for any crop plant. The center will focus on improving the food production and disease resistance of wheat and other crop plants, as well as serve as a training hub for graduate students and young researchers.
Currently, there are 61 National Science Foundation Industry/University Cooperative Research Centers, most of which are devoted to engineering and electronics.
"We're thrilled that Kansas State University is recognized as an international leader in securing and improving major food sources that are vital to feeding the world's growing population," said Kirk Schulz, university president. "This decision by the National Science Foundation and the support of our industry partners underscores the expertise and talent at Kansas State University. It is a significant milestone in being recognized as a Top 50 public research university by 2025."
The National Science Foundation center will be divided between Kansas State University and Colorado State University, with Kansas State serving as the lead institution. Bikram Gill, university distinguished professor of plant pathology and director of the university's Wheat Genetics Resource Center, will serve as director.