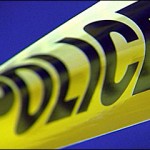 Update 10:00 Wednesday morning
Riley County Police released the names of the individuals involved in the motor vehicle accident in Ogden Tuesday afternoon.
Johnny Cossey (38) was driving a 2004 Lincoln LS northbound down Walnut Street across Riley Avenue, when it collided with two motorcycles that were traveling westbound on Riley.
The operators of those motorcycles were identified as James Garrett III (48) and Steven Cannon Jr. (29). Garrett was transported via Life Star Helicopter to Via Christi Hospital in Wichita for injuries, and his current condition is unknown.  Cannon was transported by Riley County EMS to Mercy Regional Health Center where he was admitted for injuries.
Cossey was ultimately located by officers on the 300 block of North Park Street in Ogden, around 7 o'clock that evening, and was placed under arrest at that time for leaving the scene of an injury accident.  His bond was set at $7,000.
Original Story
KMAN received word of an injury accident in Ogden around 4:45 Tuesday afternoon which resulted in one Life Star transport.
According to dispatchers, two patients were injured in the motor vehicle accident that took place near Riley Avenue and South Walnut Street.  They indicated one person injured during the incident had multiple leg fractures.
Lifestar was dispatched from the Junction City Station for one of the injured individuals.  Riley County Fire sent individuals from Tattarax Fire to the scene to block off a landing zone for the helicopter.
KMAN will continue to bring you updates as they become available.