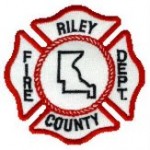 A fire at the Pizza Hut at 523 Riley Avenue in Ogden caused approximately $1,000.00 damage Thursday afternoon. Riley County Fire Chief Pat Collins tells KMAN that the initial report of the structure fire came in at around 2 p.m. Collins said a total of 18 firefighters responded to the scene. Ogden firefighters were the first to arrive and immediately knocked down the fire which was said to have begun in the attic of the restaurant.
Units from Manhattan, Keats and Hunters Island were also on hand to provide mutual aid. No injuries were reported as a result of the fire and Manager Jason Jackson told KMAN Thursday evening the restaurant re-opened at around 5:50 p.m.
The cause of the fire remains under investigation at this time.