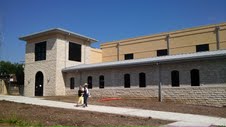 With maps in hand, the public wandered through cooridors and into rooms, through the jail area and court rooms, inspecting the work done on the new Justice center during the open house Saturday.
There to welcome and to give tours were the County Commissioners, along with employees who will be calling the facility home by the beginning of September, and some of those who have been involved in the creation of the facility.
With the start of construction a little over a year, the project is closing in on the final completion of phase one. Originally contracted to finish on August 8, 2013, the project has been extended until August 18, with the departments moving through the beginning of September.
After this is done, Phase two will begin.
Throughout the project, each department had a chance to give their input and requests.
With still more work to be done, the Pottawatomie County Commission will continue to receive weekly updates on the project every Monday during their commission meetings.