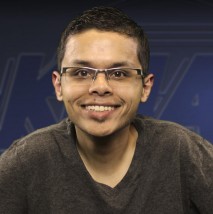 Eli Anderson joined Manhattan Broadcasting in the Summer of 2012 as a news writer. After honing his writing skills, Eli branched out and began anchoring on the weekends and reporting various news events around Manhattan.

Eli currently hosts news on the weekends and serves as a fill-in host for KMAN's In Focus . He also regularly covers Manhattan City Commission meetings.

As a freshman at Kansas State University in 2008, Eli quickly fell in love with radio and hasn't looked back. One of his favorite memories at the student radio station came in 2011 while covering a K-State vs. Baylor football game at Bill Snyder Family Stadium. Eli provided color commentary alongside, classmate and play-by-play announcer, Daniel Flores as then KSU linebacker Arthur Brown sacked Baylor quarterback Robert Griffin III leading to a game winning field goal for K-State.

Eli grew up in Kansas City, Missouri (the real KC) and reps the Kansas City Royals and Chiefs whenever possible. He dreams of the day when either team brings glory to KC with another world championship. At least the Cleveland Browns haven't won one yet, but hey, who's keeping track.