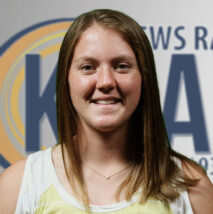 Kelsey joined Manhattan Broadcasting Company as a Kansas State student and a small-town Nebraska native.
Her career began as just a junior in high school when she decided to go on a job shadow at a radio station during a live sports broadcast. From there, Kelsey joined that radio station as an employee- operating the board, covering live events, and calling games.
Since then, Kelsey completed her associate degree in Radio and Television Broadcasting at Northeast Community College in Norfolk, Nebraska. During her time there, she was named sports director and news director of the college television and radio stations. Along with her roles at the college stations, she also took her skillset to News Channel Nebraska to do more behind the scenes work.
Kelsey is now pursuing her bachelor's degree in journalism at Kansas State University. With future aspirations to become the next Erin Andrews, Kelsey is also involved with the K-State Athletic Department, sideline reporting and working several different positions on gameday.
When Kelsey isn't working, she loves watching sports (Go Titans!), enjoying the company of friends and family, spending time outdoors, and running obstacle course races.