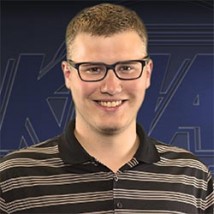 Tyler began work at Manhattan Broadcasting in 2009 as the statistician for Manhattan High School football broadcasts before starting work as a studio engineer in 2011. A lifelong resident of Manhattan, he's been surrounded by Kansas State and Manhattan High sports for over two decades.
He spent time as a reporter for the Manhattan Mercury and K-State Collegian before joining the Rivals network, where he spent three years covering K-State football, basketball and baseball.
Tyler started on-air work with KMAN as the sideline reporter for MHS football broadcasts in 2012. He co-hosts "The Game" with John Kurtz on weekdays from 4-6 p.m.
He also hosts "Scoreboard Saturday" from August-March, recapping the week's high school football and basketball action.
Tyler is a certified scuba diver who enjoys traveling, hunting, fishing and golfing in his spare time.