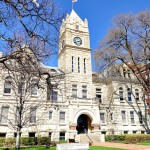 A man facing charges in connection with an October fifth Manhattan home invasion has entered a not guilty plea in connection with the case.
Levertis Horne, 22, was in Riley County district court Monday for his arraignment and entered the plea. He faces a variety of aggravated robbery and battery counts, with K-State student Chase Cargile shot and wounded during the break-in.
Horne's next appearance is scheduled for July first, with a pre-trial hearing. The actual trial is set for July 31st through August second.