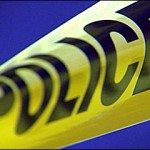 Riley County Police were made aware of an indecent liberties case after receiving the information from Wichita police.
Limited information was released, as the investigations department just received the case, but a sex offense was reported to Wichita police sometime around 9:30 Tuesday evening.  Although the case was reported in Wichita, it actually occurred in Manhattan.
A male child, under the age of ten, was the victim  of inappropriate touching in the northeast part of Manhattan.  It is unknown when the incident occurred, but the suspect is a female who is known to the victim.
Police indicated that the child doesn't appear to be in current danger.
———–
A Manhattan man was arrested on his way out of Riley County Court, after appearing for a previous charge.
Antonio Hill (41) appeared in court for a status hearing Tuesday afternoon.  After exiting the court room, he was arrested for probation violation, with an original charge of possession of cocaine.
Hill's bond was set at $5,000.