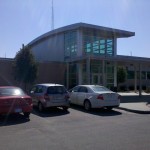 A homeless man in Topeka was brought back to Manhattan on a couple of warrants.
Carlos Silva, 43, is being held on two separate failure to appear charges.
The first stemming from a sexual battery and the other from fleeing and attempting to allude police.
Silva is being held on a $13,000 bond.
—-
A fight between roommates lead to an aggravated battery charge.
Jose Arturo Valladerer, 32 of Manhattan, was arrested when a physical altercation with his roommate ensued.
Valladerer was being held on a $7,500
bond.